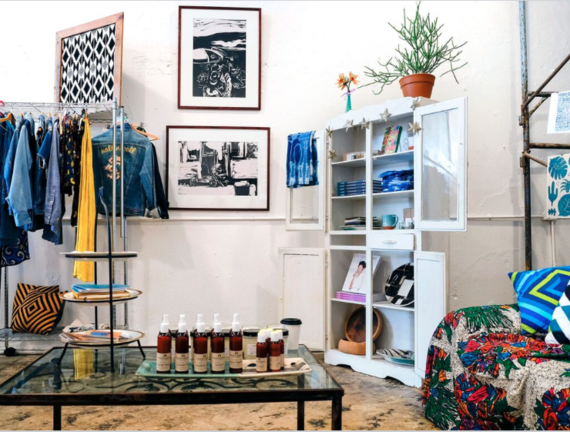 Despite what we want to think, or hope that we are somehow an exception to, inequality of women remains an issue in the U.S. It's horribly exacerbated by additional marginalization, but even the best-case scenario for U.S. women in 2015 includes inequality in pay. Even where the gap is the smallest — Washington D.C. — women are paid 90 cents on the dollar. In Louisiana, where I live and work, women working fulltime are paid 
65 percent of what men are paid
, a startling 35 percent gap.
That's why I was incredibly excited to walk down Oretha Castle Haley Blvd. in New Orleans (named after the civil rights activist and founding leader of the Congress of Racial Equality) and discover Less Than 100 — a traveling pop-up shop for gender wage parity (the first pop-up was in Pittsburgh). Founded by Brooklyn graphic designer Elana Schlenker in 2014, the store charges two disparate prices that reflect the wage gap. Meaning, men pay full retail cost while women customers pay the percentage they earn on the dollar statewide.
The New Orleans pop-up, organized by artist Tammy Mercure and entrepreneur Rebecca Diaz, has a bright and open layout that features clothing, jewelry, textiles, publications, art prints, stationery and home goods created by women artists and designers from New Orleans and across the nation. (All sales from the 501c3 non-profit go directly to the artists, and all contributors and collaborators are paid fair wages.) Among the finds in the shop are baked goods by Cake by the Pound, editions of the women-focused magazine Cherry Bombe, upcycled jean jackets by Holt McCall and colorful retooling crayons by artist/graphic designer Keetra Dean Dixon.
The development of the pop-up was quick — the idea came to Schlenker in October 2014 and the first pop up opened in April 2015 — but how she arrived to this point wasn't. The pay gap wasn't always a concern to her, particularly when she was younger. "I believed in wage equality, of course, but didn't feel personally impacted by the issue," says Schlenker. "It seemed like something that was solved." It wasn't until later as a graphic artist that she began to notice women, whose work she admired, were not paid the same as their male counterparts. The consistent disparity weighed on her and inspired her to focus on the problem and offer her own solution. In Less Than 100, Schlenker employs many of the skills she has honed as a graphic designer and magazine publisher. "My work involves distilling complex ideas into a visual approach that is easy to understand and digest," says Schlenker. "With two prices on everything, the wage gap becomes immediately tangible. That's really at the heart of this project."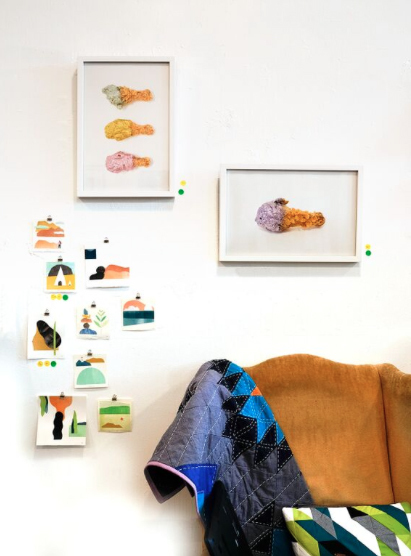 What's exciting and indicative that equality for women is supported by both genders, says Schlenker, is that the shop has plenty of male customers. Men come in with their own stories about how income disparity affects their families. One customer posted about the shop on Facebook and challenged his male friends to visit and take a stand against inequality. "Customers understand that the store is about supporting women, not punishing men," says Schlenker. "We hear a lot of stories from men about the women in their lives who've supported them — single mothers, grandmothers, sisters and wives working hard in the face of this issue. They understand that this doesn't just impact women, but entire families, including children and partners."
Schlenker hopes that the pay-what-you're-paid approach increases awareness about the pay gap among both genders, young and old, and sparks ongoing dialogue and action. Most people understand that there is a gap, says Schlenker, but many of us think it's a systemic problem beyond our control. There are real ways we can take control of the issue, she says, whether that's pushing employers to level the playing field in evaluations or increase transparency so that employees know how much their colleagues earn. "It's amazing how quickly the gap closes when this information is publicly available," says Schlenker.
In addition to leveling the playing field in how much customers pay at the shop, Less Than 100 also hosts workshops on negotiation and provides free childcare to ensure that all women can attend. The wage gap issue is complex, says Schlenker, but a contributing factor is that women are often less comfortable negotiating their salaries or an increase in pay. The workshop teaches tools of negotiation, she says, and offers those struggling a space to realize that they aren't alone.
While Schlenker is adamant that minimum wage must increase (it disproportionately affects women), she says an essential step to changing how our collective culture values women is through the individual. We all have our own set of biases, says Schlenker, and engrained ideas from our various upbringings and cultural influences. It's important to challenge these and understand their impact on how we value, perceive and compensate all women and how race and marginalization play on this. "In understanding our own biases, we can make daily adjustments that work toward leveling the playing field."
This post also appeared on the Huffington Post.